03/04/2021
Easley Housing Authority Introduces Updated Agency Brand
EASLEY, SC---The Housing Authority of the City of Easley, South Carolina is rebranding the affordable housing agency with an updated logo and positioning statement.
The refreshed brand features a contemporary color palette, transitioning from orange and brown to vibrant blue and green tones. A modern, stylish font was selected to represent Agency's progressive, forward-thinking mission. Modifications to the accompanying logo icon reflect the Agency's integral connection to the housing community with Easley Housing's initials, "EH", positioned within the core of the emblem.

Easley Housing has also adopted a new positioning statement "Building Your Future," to convey the mission of the Affordable Housing Agency of empowering individuals through housing programs and resident services to encourage self-sufficiency and success.

"Our goal is for Easily Housing to be viewed as a professional, client-centered Agency which contributes positively to those we serve. The refreshed logo brand is lighter, brighter, and captures the spirit of our Agency to better reflect the Easley Housing community. We look forward to utilizing the updated brand throughout our internal and external operations," stated Daysha Alston, Executive Director.

The logo brand was produced by creative agency, Brooks Jeffrey Marketing, Inc., an award-winning marketing, multi-media, digital design, and website development firm serving Housing Authorities and government entities nationwide.
Easley Housing strives to promote a healthy, thriving community at the 100 public housing apartments located at Wallace Drive in Easley, South Carolina. The affordable housing Agency provides services and community development programs to support the success of residents, including job training and educational opportunities to help residents achieve self-sufficiency. For more information on the housing programs and services provided by Easley Housing, contact the Agency at (864) 855-0629 or visit EasleyHousing.org. Easley Housing's administrative offices are located at 101 Wallace Drive in Easley, South Carolina and are open Monday through Friday by appointment.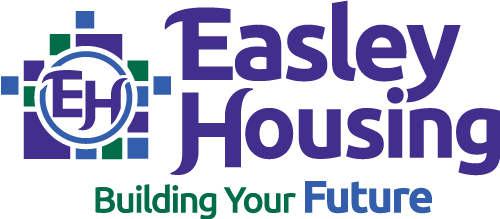 Easley Housing's refreshed logo brand.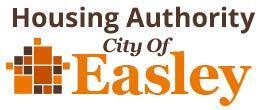 Previous logo brand utilized by the Easley Housing.