Community Security
---
EASLEY, SC--- Easley Housing recently implemented a community improvement initiative at the agency's multi-family housing complex located at 103 Wallace Drive in Easley, SC. The initiative focused on security, safety, and property improvements.
Easley Housing contracted with Ocean 10 Security, LLC, of Ashville, North Carolina to install five Tsunami 2.0 Video Surveillance Systems and two License Plate Recognition (LPR) cameras at the housing complex. The new video surveillance system provides greater visual coverage of the complex grounds and allows license plates to be identified in the event unauthorized persons are located on the premises.
The state-of-the-art, plug-and-play Tsunami security surveillance system utilizes high-definition cameras and an armor-plated, internal self-management data system. Each Tsunami system is able to record the surroundings for hundreds of feet, 360°, day and night.
The advanced technology allows Easley Housing staff or local authorities to zoom in and view a person's face or a license plate in real-time or to access the video archives from past weeks.
Multiple designated users are able to access the forensic quality video from a secure connection anywhere in the world on a variety of devices such as desktop computers, patrol car laptops, or smart devices.
​The patented Tsunami solution is used for municipalities, military, law enforcement, department of corrections, educational institutions, and many other government entities, including other housing authorities across the United States.
In addition to the enhanced video surveillance system, property improvements implemented by Easley Housing include the installation of 900 linear feet of commercial-grade aluminum fencing surrounding the complex grounds. The new, 6ft. panels replaced wooden panel sections, improving both the aesthetics and stability of the perimeter fencing.
To protect homes and outdoor spaces, several trees within the housing complex were trimmed or strategically removed by Greenville Tree Co. The professional firm removed and trimmed trees to prevent falling limbs and branches from damaging housing structures or blocking streets and walkways.
To protect residents inside their homes, the housing authority has contracted with Pro-Core of Taylors, SC, to provide scheduled pest control services at the housing complex. Pro-Core treats the interior of homes for pests on a weekly basis. Pest control services are scheduled for each Friday of the month. Residents of the housing complex are notified prior to their scheduled pest maintenance service. Easley Housing Authority has also contracted with Pro-Core for a Termite Bond. Additionally, Pro-Core has provided the housing authority with oversized, outdoor rodent traps for the premises.
"These security and property improvements advance our ongoing mission to promote healthy, thriving communities and to provide safe and affordable housing for residents. It is important for residents to feel comfortable inside and outside their homes. With these and future improvements, we continue to prioritize residents' well-being within our community," stated Daysha Alston-Gordon, Easley Housing's Executive Director.
Easley Housing strives to promote a healthy, thriving community at the 100 public housing apartments located at Wallace Drive in Easley, South Carolina. The affordable housing agency provides services and community development programs to support the success of residents, including job training and educational opportunities to help residents achieve self-sufficiency. For more information on the housing programs and services provided by Easley Housing, contact the Agency at 864.855.0629 or visit EasleyHousing.org. Easley Housing's administrative offices are located at 101 Wallace Drive in Easley, South Carolina, and are open Monday through Friday by appointment.
---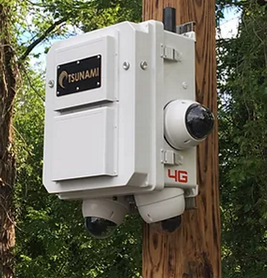 An example of the Tsunami Video Surveillance System - image courtesy of Ocean10Security.com.

Five Tsunami systems were recently installed at Easley Housing's multi-family housing complex providing 24/7 high-definition video with license plate recognition. The new security system was part of a community improvement initiative.